HELLO EVERYONE! TODAY WE COME TO TELL YOU EVERYTHING YOU NEED TO MAKE A RIDE Sleigh RIDE

If you want to enjoy a true adventure and feel like an inhabitant of the Arctic, you can not miss the tour of reindeer ride and visit the farm. In this incredible experience you will learn from within the Lapland culture and reindeer farmers, where you can learn endless things. Imagine if these reindeer herders know about the subject, that their family have been living in the same place for 500 years, the last 200 years dedicated to reindeer herding. The visit to this farm is like going back to the 30s, as soon as you get to the farm, you will feel an incredible peace and you will see magical landscapes, since it is located in front of a lake and in the middle of the forest. 
The adventure will begin by picking you up for your accommodation and from there we will move to an incredible enclave in the middle of the forest. This farm is located 30 minutes by car from downtown Rovaniemi. It is totally separated from all civilization and with incredible views of a lake or as farmers say with a view of the "supermarket" since they make their "purchases" when they want to eat fresh fish. That was the reason why their ancestors moved to this idyllic place, they did not have to travel great distances to obtain food and water for themselves and their animals.
Once there, the farmers and their reindeer herding dogs will receive us and explain briefly what their daily life is. This family has been living in this place for more than 500 years and 200 years dedicated to grazing with reindeer. After the introduction we will be introduced to Rudolph and his friends, they will prepare the sleds and we will leave for the enchanted forests of Finnish Lapland. They are magical and with a peace that is difficult to find elsewhere.
After the tour you have chosen (we leave you the info of the tours we have available by clicking here) they will offer us hot drinks, cookies and snacks typical of the area in a little house called kota. At this moment it is in which you can solve all the doubts you have, they love to be asked things about their lifestyle, the only thing they cannot tell you is how Rudolph can fly :)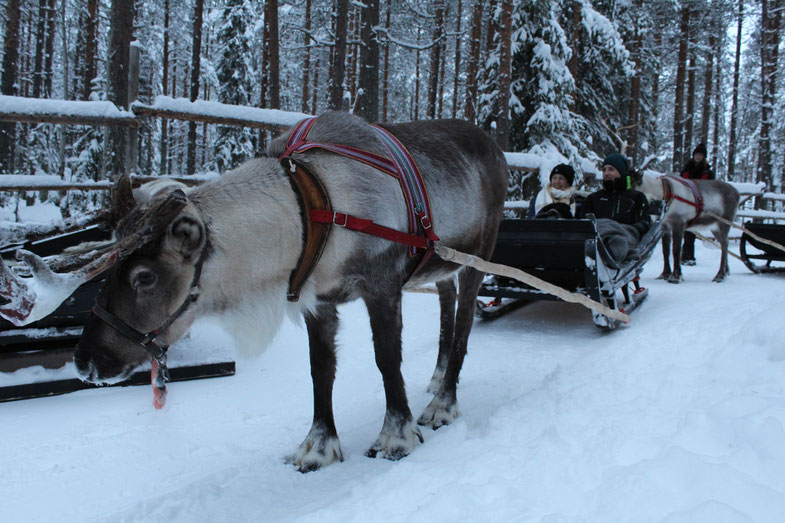 After getting warm and having resolved all your doubts you will have time to take pictures of the farm and its inhabitants.
Do not worry about the cold, with winter clothes and thermal under the jacket and snow pants will be enough but in case you need more clothes, there are overalls available, do not panic! since in the tour through the forest you will be covered with wool blankets and reindeer skins. Anyway, we leave you a link with tips on how to dress by clicking here.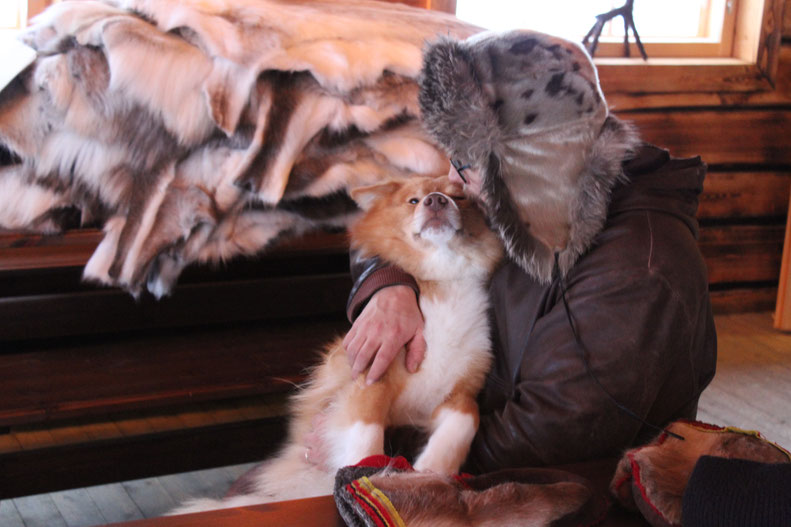 -Did you know that a reindeer loses its horns every year?
-Did you know that reindeer horns can grow up to 3 centimeters a day?
-Did you know that of the deer family, reindeer are the only species that both sexes have horns?
-Did you know that for a white reindeer to be born it is estimated that there must be between 200 to 300 births?
This and much more you can learn on this reindeer excursion in Rovaniemi, Lapland, Finland :)
We hope we have helped you and we are available for any questions you may have.
See you next time and thank you all for reading!
Moi moi!