Hello everyone! Today we want to tell you everything you need to know when you make your visit to the town of Santa Claus
All of you who are preparing your trip to Rovaniemi have searched for information to visit the town of Santa Claus, Santa Claus Village or as stated in Joulupukkin Pajakylä Finés. It is a mandatory stop if you pass by Rovaniemi.
Many of you come with children but there are many others who do not and there are doubts about whether this place is too childish or if it is a place exclusively for children, my opinion is that no, it is a magical, unique and super special place.
If you are lucky enough to be able to come when it is snowy, the truth will be incredible, in my opinion this place is much prettier when it is snowy and more at night and with the lights illuminating everything.
It is open every day of the year and 24 hours a day, it is not an enclosure, it is an open park that means you can visit it whenever you want, yes, the souvenir shops, the house where Santa Claus is located, the office of mails, etc. if you have a schedule and it is as follows:
January 8 - May 31: 10:00 a.m. - 5:00 p.m.

June 1 - August 31: 09:00 - 18:00

September 1 - November 30: 10:00 a.m. - 5:00 p.m.

December 1 - January 7: 09:00 - 19:00
Today, admission to Santa Claus Village is free. You do not need to pay to enter any of the buildings that are there.
The first thing is to get there, the Santa Claus house is 8 km from the center of Rovaniemi (road number 4) towards Ivalo. You have 3 options to get there. If you have rented a car, it will not take you more than 10 minutes to arrive and the truth is that it is very simple, it has no loss. The second is with public transport, the only option is bus number 8. There are not many alternatives in terms of this option, the schedules are quite limited and the price is not very affordable compared to other countries such as Spain. Depending on the people you are going to go, we advise you to take a taxi or hire a private transport service like the one we offer. It is a good option in winter since we would pick you up at your accommodation without having to go cold on the street with -20º and in summer due to the shortage of buses you should not be aware of the minimum schedules they offer.
And the big question is ... What can be done in the town of Santa Claus?
Of course .. meet Santa Claus! yes, yes, the real one :)
To find him is very simple, you will have to go to the central square (Central Square) and look for the Santa Claus Office. If in addition to knowing it you want to take a souvenir in the form of a photo and / or video you will have to pay for it and the prices range between 35-60€ depending on what you want to take. Remember that if you come at Christmas which is when more people are going to meet you here we recommend that you get up early to be at 10:00 am at the door, if not, you will have to be at least a couple of hours waiting to meet him.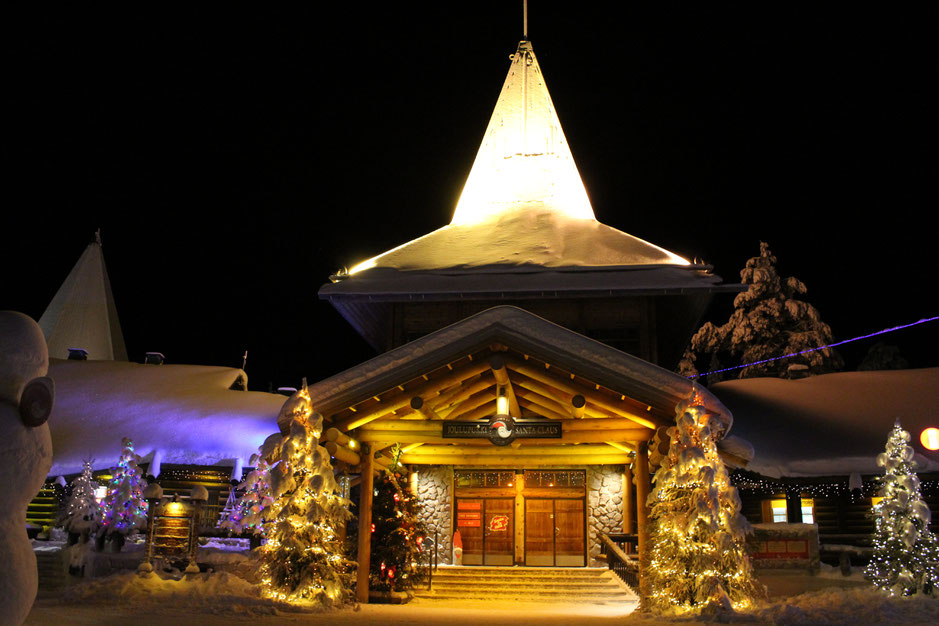 After meeting Santa Claus, what else can we do? Well, there are endless shops of sourvenirs, where you can buy from a key ring or magnet for 5€ to reindeer skins or seal caps for 300€. The same a priori may seem quite expensive but if you want to take a souvenir of Rovaniemi, in our humble opinion and after having looked at several sites, prices are not bad. If you want to look at several stores before buying and then decide on something, keep in mind that everything closes at 5:00 p.m. (except Christmas that lengthens the schedule two more hours) and there is one that is open until 10 p.m.
Having met Santa Claus and shopping if you get hungry you have several restaurants to choose from. From reindeer burgers, grilled salmon, buffet service, etc ...
Another one of the almost exclusive things like knowing Santa Claus is crossing the Arctic circle line. Right where Santa is located in the same square there are four columns where he defines the imaginary dividing line of the Arctic circle, be careful when crossing it since you will notice an extreme cold in doing so :) The latitude in which it extends is "66º 33´ 45.9" North of the equator, which means that on this dividing line we can see the sun above and below the horizon for 24 hours. In summer 24 hours of light and in winter the opposite.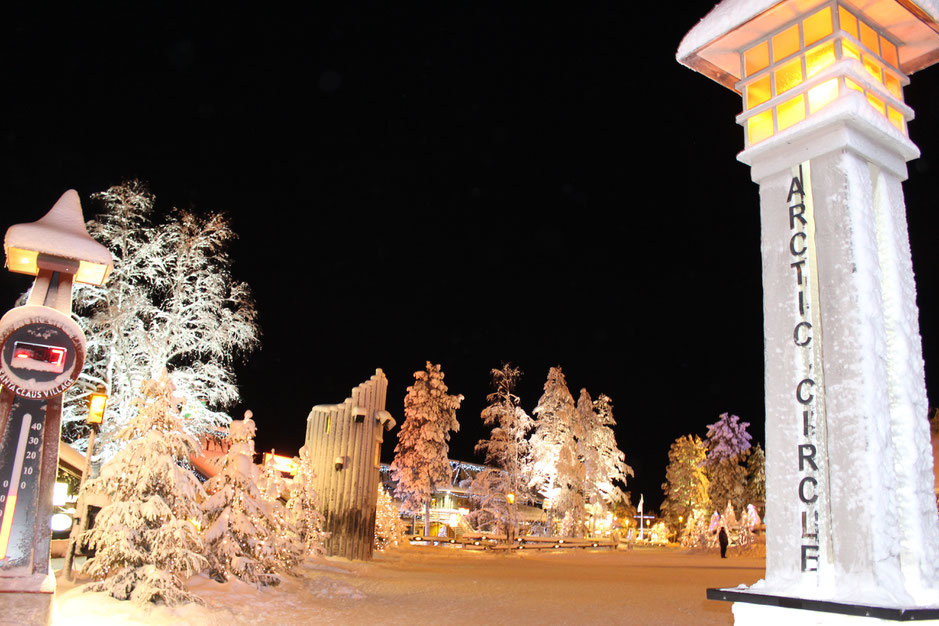 The only thing to give you an advice, in winter this line is covered by snow and you can not see it but in front of the bus stop is the "information point" inside that building you will find it painted on the ground.
And last but not least is to visit the Santa Claus main post office. You can send letters to Santa Claus from his post office, today as a curious fact know that he has already received more than 17 million letters from more than 199 different countries.
One of the most common things is to send a postcard to your friends and / or family from the Santa Claus post office. For this you only need to buy the postcard (there are from 80 cent) and a stamp. They have from the normal one worth 1.60€ international shipping to a special one in which Santa Claus leaves for 2.50€. After you have chosen the postcard and the stamp you have to decide whether to put your postcard in the normal shipping mailbox or to have it sent to you by Christmas! Yes, what you read, if for example if you come in March you could fill in a postcard and that you arrive at your destination at Christmas!
We hope we have helped you and we are available for any questions you may have. See you next time and thank you all for reading!
Moi moi!